Muqadimmah Al-Jazariyyah Ijazah eLearning Course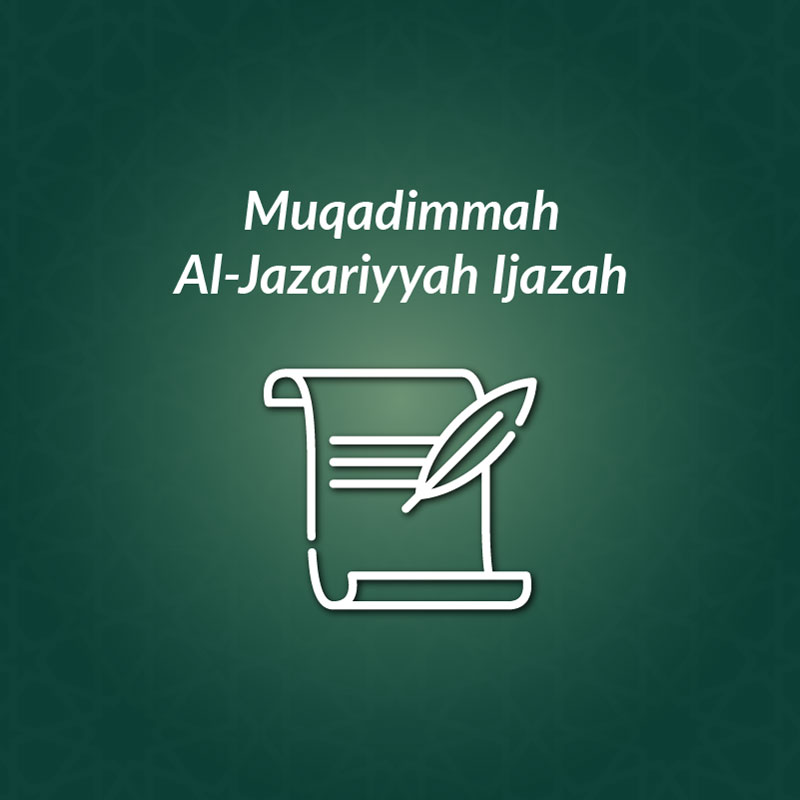 Course Overview
Memorize and understand the meaning of Muqadimmah Al-Jazariyyah (The Jazariyyah Tajweed Poem) at the advanced Tajweed level

Online group learning methodology

Maximum TEN students per session

During each session, the teacher will explain 3-5 poem lines, students will take notes and then individually read back these lines to her

There will be oral assessments for memorization after each class and at the end of each term

The final assessment will consist of a Memorization Assessment and one Written Test

The student must recite the entire poem in one sitting with maximum 2 mistakes and attain 80% in written test to be awarded an Ijazah
This course is taught by Ustazah Hina Malik. She has Ijazah in Muqadimah feema yajibo a'la qari'il qurani an ya'lamah (commonly named as Al-Jazarriyah). She also has Ijazah in the way of Asim (including Hafs wa Shubah) min tareeqat Ash Shatibiyyah. Currently she is reciting Qura'an by the way of Qaloon un Nafi to receive Ijazah in it. Masha'Allah she has over 7 years of teaching experience with Al-Huda eCampus.
For girls and women, ages 15 and up
Students who have completed Tajweed eLearning Certificate Course Level 3 (TJ3eL) from eCampus or equivalent from any other institution (someone who knows at least 60% of Tajweed rules, the instructor will conduct an assessment before an offer of admission)
Upon successful completion of the course, student will be awarded an Ijazah in Muqadimmah Al-Jazariyyah by Ustazah Hina Malik.
A student who is unable to memorize the poem with maximum 2 mistakes will be awarded a certificate of participation by Al-Huda eCampus and Al-Huda Institute Canada.
ENGLISH 
Mode of instruction for this course is English.
If you are interested to enrol in any of the Tajweed eLearning Courses on Al-Huda eCampus, please fill this form to schedule your free assessment with the instructor. After the assessment, you will be assigned to an online class that suits your level of tajweed depending upon the instructor's availability. You will then receive the link to the course and instructions to pay the fee on the email address you provide in this form.
Online classes via Al-Huda Talk are held once a week for a duration of 1 hour

Students must attend each weekly session

Duration for the course is 12 months, divided into 4 term of 4 months each
The ONLY method to pay fee is online via PayPal on Al-Huda eCampus

All course fee are non-refundable

In case you withdraw from the course at any time, your term fee shall be donated towards the cause of promoting Islamic knowledge
Attend each class to complete the course

Complete homework by practicing as many times as the teacher recommends

Log in to class on time and leave class on time

Do not keep the teacher waiting

Email the teacher in advance if you are unable to attend a session
Send us your queries through this form