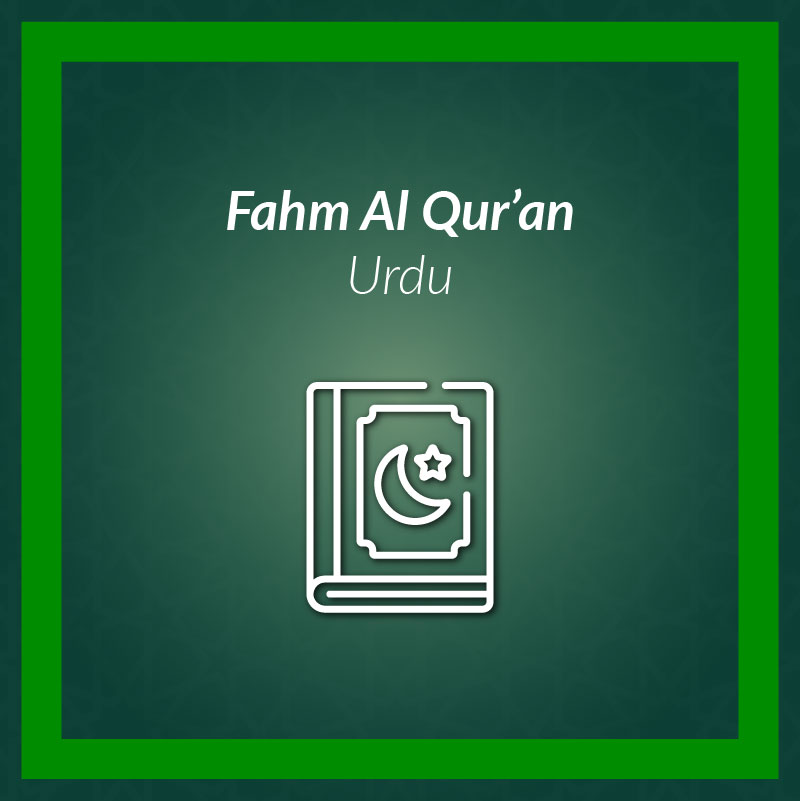 CATEGORY: Fahm Al-Qur'an eLearning Certificate Courses
Fahm Al-Qur'an Urdu
Course Overview
Fahm al-Qur'an Urdu eLearning Certificate Course (FQUeL) enables individuals to study the Qur'an at their own pace with easy global access. It provides an out-of-the-classroom disciplined individual learning environment with set timelines for completing each Juz. It is based on translation of the Quranic verses and brief explanation of each Juz.
Go through the entire Qur'an with translation and a brief explanation of selected verses from the Qur'an

Understand the important commandments given in the Qur'an

Memorize Morning and Evening, Qur'ani and Masnoon Du'aain Awr Azkar with correct pronunciation and translation.

Develop love for Allah subhanahuwata'ala and Prophet Muhammad sallallahualaihiwassalam.

Strengthen the five basic pillars of Islam (Tauheed, Salah, Saum, Zakah and Hajj).

Build a strong character and best Akhlaq according to the Qur'an.

Become aware of the purpose of this life and life after death.
URDU
This course is taught through the Fahm Al-Qur'an 2010 lecture series delivered by Dr. Farhat Hashmi in Urdu. All assignments are available in Urdu.
Note: If a student understands Urdu but cannot read or write in Urdu, then all assignments will be made available in English upon request.
Offered through Moodle, which is a web-based learning management system (LMS)

Electronic access to audio lectures, resource material and tests

The student must regularly log in to Moodle using their username and password to access the course resources.

Each audio lesson includes a) brief Translation and Tafsir of selected verses of each Juz and b) recitation with correct pronunciation and explanation of Du'aain Awr Azkar.

In order to listen to the Juz audios and do the assignments, it is mandatory to use an Urdu translation of the Holy Qur'an. Any Holy Qur'an translation can be used.

Evaluation is through a) written assignments upon the completion of each Juz and b) written tests based on the memorization and translation of Du'aain Awr Azkar.

Minimum requirement is to complete one lesson per week; a student may do more than one lesson per week.
Education: 11th grade and up
Able to pay fee online (no other method of fee payment is available on eCampus)
Students are expected to start the course as soon as he/she registers after paying the term enrollment fee on the course website.

Students are encouraged to take notes while listening to the recordings. This is an important part of the Qu'ranic learning process.

A student must complete the assigned work for every lesson. This includes completing the assignment and memorizing the Du'aain Awr Azkar assigned for that week.
The ONLY method to pay fee is online via PayPal on eCampus course pages.

No other method of fee payment is available on eCampus.

All course fee are non-refundable.

In case you withdraw from the course at any time, your term fee shall be donated towards the cause of promoting Islamic knowledge.
Click here if you need assistance in registering for the course or require further information. Please state your name, contact information and country of residence with your request.
Total of 30 lessons in the course.

Maximum duration is 12 months.

Since it is a self-paced course, the duration to complete the course is dependent on the student's pace.

Minimum requirement is to complete one lesson per week.

A student may do more than one lesson per week and easily finish in less than 8 months.
Upon completion of the course, students will be awarded a Fahm al-Qur'an eLearning Certificate by Al-Huda eCampus and Al-Huda Institute of Canada.
Step 1: Make your free account on www.alhudaecampus.com
Step 2: Register by clicking on the button below
For the Fahm Al-Qur'an Urdu Course, no specific Urdu translation is recommended. Click here for the text and translation of Du'aain Awr Azkar Subject.